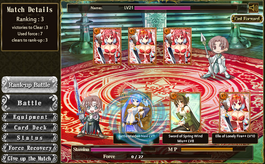 Matches are where you can pit your abilities fighting against other players. Each player has a rank which depends on his/her strength – you can raise your rank through a certain number of victories based on your current rank.
When you achieve a set number of victories, you will receive powerful equipment as a reward. Even when you lose, you will still get a reward for participation.
Matches consume a certain amount of force based on one's rank.
All players start from rank 1.
When you achieve a certain amount of victories, you will have the option to enter a rank-up battle. By winning this battle, you will be promoted to the next rank.
Rank-up battles do not cost any force.
No reward, other than ranking up, is given for winning a rank-up battle.
Your enemy for the Rank-up Battle is always a predetermined player with specific gear and cards.
The power of the items you obtain as a reward will be appropriate to your new rank.
For the full list of match rewards, see PvP Matches Rewards
Rewards are distributed after you successfully clear a Match (Victory Reward) or lose the Match at any stage (Defeat Reward).
FIGHTING WITH OTHER PLAYERS
Edit
Fighting with other players is performed automatically. Victory or defeat will be decided based on the player character's equipment and the cards set in their deck.
Each knight will attack 3 times, and each valkyrie 2. The stamina of both player is equals to the damage of the strongest team. The result of the match is decided right when it start, the whole battle part is just eye candy.
Valkyries have the same defense as your knight, which is determined by the equipment you are currently wearing. Valkyries are not affected by your elemental attribute, as they each have their own element.
During a series of battles, equipment and card deck cannot be changed until either forfeiting, winning all battles in that match, or losing.
RESELECT
Edit
During one series of battles, you can choose to reselect your battle opponents a total of 5 times. Use it when you think that a selected opponent currently is too strong for you.
COMRADE REQUEST
Edit
You can ask your battle opponent to become your comrade. You will become comrades when the opponent accepts your request.