I'm not exactly a fan of the white/light blue color scheme, if you're reading this, Nutaku folks, could you possibly consider making it more gold/brown like the game itself? I'm not too sure about how to edit the whole wiki theme itself, nor would I want to make something so drastic without prior approval. dukeplatypus (talk) 16:41, January 17, 2015 (UTC)
Menu images
Edit
The menu is a little bland looking, so I figure I'd have a crack at making them better.
I used what's already there as a base, then I added the border from the Quest button in game, so it's a bit smaller. On the other hand, I feel like the filesize of the images on the front page is on the large size anyway.
-- Kasarn (talk) 05:12, April 1, 2015 (UTC)
Main page protection
Edit
If anyone would like to make a change to the main page, or any other protected pages, feel free to leave me a message, email me at damnsamoflange@gmail.com or visit me in chat at http://lordofvalkyrie.chatango.com.  Otherwise I am locking the main page to stop poor edits being made.
Don't protect the main page is like rule #1 of running a wiki. There are better ways of doing it, like protecting it from anonymous edits or using templates. Unless there is a clear pattern of deliberate vandalism, there is no reason to force people to get special permission to edit the front page. -- Kasarn (talk) 05:46, April 1, 2015 (UTC)
look what advanced is japonese game ,,wow ..here is boring ...look at stage 4 at new quest ..+23 ..and that right hand weapon ..enghanting rate +500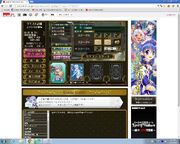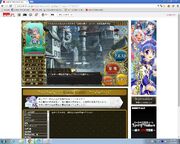 Ad blocker interference detected!
Wikia is a free-to-use site that makes money from advertising. We have a modified experience for viewers using ad blockers

Wikia is not accessible if you've made further modifications. Remove the custom ad blocker rule(s) and the page will load as expected.